Course Readiness Criteria - Example 4
Do the faculty members have an understanding of and some experience with integrating elements of computer-based instruction into existing courses?
Some faculty may have a great deal of enthusiasm for large-scale redesign but little prior experience in this area. It is difficult to complete a successful project by starting from scratch. Having experience with integrating smaller IT elements into courses helps to prepare for large-scale redesign efforts. Some experts have said that 13 – 15% of the faculty constitutes critical mass.
What evidence can you provide to demonstrate faculty experience with integrating computing into existing courses? Here are some examples of the ways various institutions have responded to this criterion.
De Anza College (Foothill-De Anza Community College District)
There are close to 100 (out of a total of 285) full-time faculty who have undertaken some study or training in computer-based instruction and have applied some elements in their courses. About sixty faculty have self-developed web pages to support their classes and many more are eager to use the web. In certain discipline areas, the experience level is even higher.
We have a wide variety of disciplines who have faculty with technology experience in their classes. Like most institutions, however, we also have areas which are heavier instructional users than others. The mathematics department has a higher level of technology integration than most others. Other areas of higher integration include English, business and accounting, and the creative arts (music, graphics).
A large percentage of Penn State faculty and teaching students have experience in creating web-based materials for use in instruction. On one central server for faculty course pages, more than 1,800 courses are housed. Since many faculty use college- or department-based servers, nobody knows the full number of active course sites. Based on a survey in September, 1998, 36% of faculty report that they use the web in teaching. Nearly 80% said that they use either the Web or email to communicate with students. A very large percentage (63%) of those who are not currently using the Web indicated a desire to do so.
Rio Salado College (Maricopa Community College District)
Yes. Rio Salado College has a very creative contingent of 17 full-time faculty. When the college ventured into online courses three years ago, all of the faculty were given release time to work together for a semester and put one of their courses online. Each of these faculty has since created, developed, and taught additional online classes. In addition, the full-time faculty are responsible for the on-going training of adjunct faculty in their discipline. The faculty stay current with web-course creation options by taking time to explore new technology and software and determine what should be added to existing courses or used to create a new course.
It is important to note that all course materials are either developed by a full-time faculty member or developed by an adjunct faculty in conjunction with a full-time faculty member. Because of the level of input from the full-time faculty member, Rio's distance courses maintain a high degree of consistency within disciplines.
Web-Enhanced Courses at UB. A recent survey of all undergraduate courses in UB's new College of Arts & Sciences, in which we looked for courses with a significant web-related component (i.e., beyond mere electronic posting of syllabi) indicates that about 20% of current courses are using computer-based IT. We expect this number to increase significantly with the advent of the Educational Technology Center. Distribution among Humanities, Social Sciences, and Natural Sciences and Mathematics courses is about even.
Faculty Educational Technology Grants. During the past two years the Provost's Office of Faculty Development and the new Office of Educational Technology have awarded over 60 grants totaling $318K to faculty (individual and groups) for the development of IT-intensive courses. (A list of the most recent round of grants is on the ETC web site at www.etc.buffalo.edu/links.htm).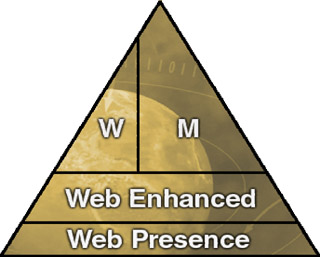 The pyramid represents the various ways faculty at UCF use the Web in their classes. There is another level not depicted at the bottom of the pyramid that would represent those courses in which faculty do not use the Web. The bottom band represents all faculty who are using the Web to create an on-line presence for their courses. This ranges from an on-line syllabus to extensive links to related course materials. These faculty generally create their own website or have a student or graduate assistant help them with the creation of their website. While no central assistance is provided on the website development, faculty have free access to and space on university servers.
The middle band represents courses running in the university's standard course management environment, WebCT. Faculty are provided training in the use of WebCT through a series of workshops and labs, offered by Course Development and Web Services, that take them from very basic use of the conferencing tools in WebCT to progressively higher levels in which faculty learn to use all the features and tools available in WebCT. Currently, there are nearly 700 WebCT accounts, with more than 24,000 registered users.
At the top of the pyramid are the M (Media-enhanced) and W (fully Web-based) classes that involve extensive faculty training and team-produced materials. Faculty preparing to teach M and W courses take IDL6543, the faculty development course for Web-based instruction. To date, 138 faculty members have completed the eight-week IDL course. Over 200 M and W courses have been developed to date. Our goal is to bring all UCF faculty "within the pyramid," moving them upward to increasing levels of training and quality.
University of Minnesota-Twin Cities
To gain a better understanding of UMN faculty use of instructional technology in courses, an e-mail survey recently was sent to 3505 faculty. As of March 25th, 256 faculty (7%) have responded (note that this survey is still in progress). The total number of courses taught by these faculty is 850 (includes quarter and semester courses), and the technology currently used (1998-99) or planned for use (1999-2000) is shown below.
Distinct Courses

Tech-Use Level

YEAR

Other

Low

Med

High

Total

1998-1999 (Quarter System)

78

340

94

15

527

1999-2000 (Quarter System)

41

190

76

16

323

Grand Total

119

530

170

31

850
Category Descriptions
Low - E-mail, listserv, newsgroup — or, the course uses a web site for things such as posting the syllabus, reference materials, etc.
Med - The course uses learning modules (on-line interactive learning, testing, etc.) in addition to the technology described in #1 above.
High - The course uses streaming video (e.g. for 3-D visualizations, complex simulations, etc.) in addition to the technology described in both 2 and 3 above.
Other - The course uses no technology, or uses a non-cumulative combination of the three categories above. For example, it may use technology from Category 3, but not from Categories 1 and 2. Or, it may use technologies from Categories 1 and 3, but none from Category 2.
Based on the responses to date, the majority of those responding use or plan to use email, listservs, newsgroups, and/or web sites in their courses. A full report on this survey will be developed during May.
The University of Pittsburgh has about 3,000 faculty at its main and regional campuses. We estimate that at least one-fourth of the faculty use Web and other computer-based materials in their teaching. In the past year alone, nearly 200 faculty have participated in training on the selected course management system, CourseInfo. About 125 faculty have used CourseInfo for their courses, affecting about 5,000 students. The rapid deployment of this software reflects the high level of faculty readiness for integration of technology into their courses.
Faculty using computer-based instruction are found in virtually all schools and departments at the University. However, the 1998 summer training institute focused on faculty teaching large, introductory science courses. These faculty were in biology, chemistry, geology, physics and psychology.
University of Tennessee, Knoxville
The following numbers illustrate that a substantial number of faculty have experience with computer-based instruction:
During the 1997-98 academic year, more than 250 UTK faculty members listed course materials on the Web to augment traditional face-to-face teaching.
By June 1, 1999, over 200 faculty are expected to request CourseInfo accounts for putting their course materials online and to attend various workshops targeted towards effective design of those materials.
Over the last four semesters, beginning in the fall of 1997, ITC has offered 172 sections of 30 different courses and workshops focused on instructional technology. Faculty and academic staff filled over 1600 seats.
Fifty-seven faculty members participated in the 1997 ITC fellowships and grants. They worked in 27 teams to produce technology-enhanced course components. In 1998-99, forty-five faculty took part in the Hewlett Fellowships to produce 23 interdisciplinary courses.
Library faculty have designed and updated many computer-assisted instruction modules for such programs as freshman composition, public speaking, biography components of communications courses, freshman biology, and content-specific summer programs such as Governor's School for the Sciences. In 1997-1998, librarians taught 295 research-oriented classes to facilitate the integration of computer-based library resources into classwork.
University of Wisconsin-Madison
UW-Madison offers faculty and instructional staff ongoing opportunities to gain understanding and experience with technology-based instruction. Over 100 Technology for Teaching and Learning Events, including seminars and workshops, are sponsored annually by DoIT's Learning Technology and Distance Education Department in partnership with the New Media Centers, Emerging Media Technology, the General Library System, and others. In addition, over 200 computing-related workshops are offered annually and over 120 online self-study computing courses are available through DoIT's Professional and Technical Education Department.
For several years DoIT's Learning Technology and Distance Education (LTDE) Department has offered and coordinated faculty grant programs and has sponsored online course development. Nearly 120 UW-Madison faculty have completed projects providing online information and/or instruction to students through the Web Grants program. In addition, over 30 faculty have completed extensive Instructional Technology grants integrating technology into their classrooms and/or providing online information/instruction to students. LTDE sponsored acquisition and provides training in the use of WebCT tools for online course development. Currently 30 courses are available to students online through WebCT Course Listings. In addition, web site links with information and/or instruction are currently available for over 1,600 courses from UW-Madison's home page and department home pages.
UW-Madison supports collaborative development and delivery of instruction through its active involvement with UW-System, the Committee of Institutional Cooperation (CIC), and Capstone degrees and certificates. Nursing and less-commonly taught language courses are now available to students throughout the UW-System. Programs in psychology, entomology, and political science and courses in less-commonly taught languages are currently available to other CIC institutions. Recent Capstone projects are under development to offer students new learning opportunities in such fields as Geographical Information Systems (GIS), Lab Quality Management, and French Studies.
To further assist faculty, UW-Madison supports a Teaching Academy providing leadership to strengthen teaching and learning, Peer Review of Teaching to help teachers evaluate and enhance their teaching with help from colleagues, and Creating a Collaborative Academic Environment enabling faculty and staff to work together to define new approaches to teaching.